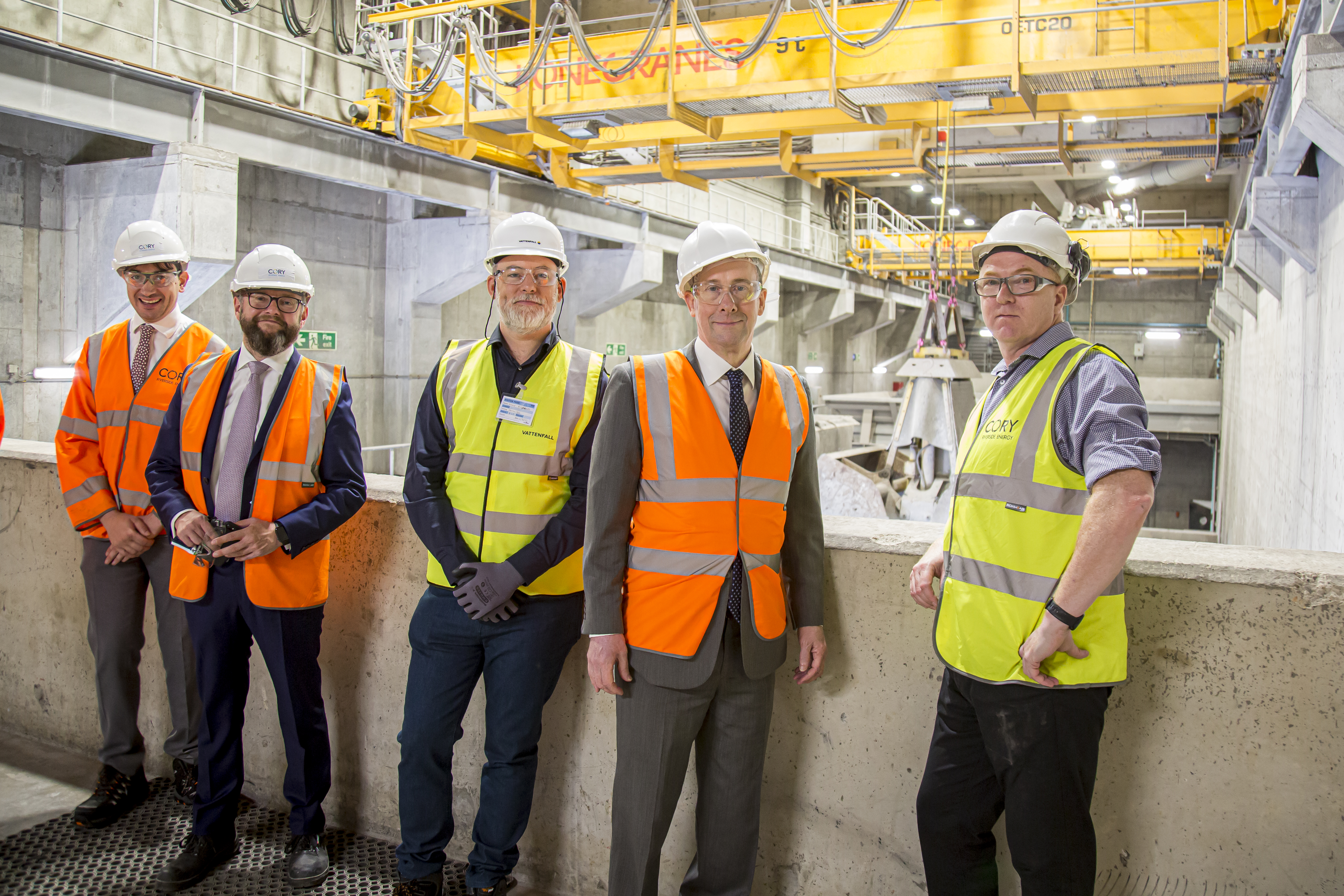 Tuesday, 3rd August, 2021
Government Minister visits Cory to discuss one of the UK's largest heat networks
The Minister for Business, Energy and Corporate Responsibility, Lord Callanan, today visited Cory's Riverside energy from waste (EfW) Facility in Belvedere to discuss the development of one of the UK's largest heat networks. Cory, working with Vattenfall, will use spare heat from the facility to develop a heat network that will serve 21,000 local homes with low carbon heat.
The project will be part-funded by a £12.1 million award from the Government's £320 million Heat Networks Investment Project (HNIP) in April 2021. The funding comprises a £1.6 million commercialisation grant and a £10.5 million construction loan, delivered by Triple Point Heat Networks Investment Management.
Over recent weeks, Lord Callanan has been touring projects awarded HNIP funding to meet the teams behind the future of low-carbon heating in the UK.
Cory's existing Riverside EfW facility will provide heat for up to 10,500 homes in Bexley in the first phase of the proposed heat network. A second EfW facility – adjacent to the existing one and part of Cory's Riverside Energy Park which received planning permission from the Government in April 2020 – will supply an additional 10,500 homes. Combined, the two EfW facilities will provide heat for 21,000 homes.
Visiting the source of the heat network, Lord Callanan was presented the wider vision for the project by Cory, Vattenfall and housing association, Peabody.
Heat networks are essential to decarbonising heat in domestic and commercial properties and to meeting the UK's target of net zero emissions by 2050. They harness heat from a central energy source, in this case an EfW facility, and deliver it to homes or businesses through a network of underground pipes. This makes it a low-carbon solution, with no need for individual boilers or electric heaters in every building.
Working with partners like Vattenfall, Cory has the capacity and capability to deliver a step change in relation to heat decarbonisation.
Dougie Sutherland, Chief Executive of Cory, said:
We are very pleased that Lord Callanan and the UK Government are supporting the development of one of the UK's largest heat networks powered by spare heat from Cory's EfW facility. This is a major step towards net zero, providing low-carbon heat for thousands of homes and businesses in Bexley and its surrounding Boroughs.
Lord Callanan, Minister for Business, Energy and Corporate Responsibility, said:
Heating our homes and workplaces is one of the UK's main sources of carbon emissions. Establishing one of the country's largest heat networks shows how these cutting-edge low-carbon technologies are vital in allowing us to meet our bold climate change commitments, making our towns and cities cleaner places to live and work.

Thanks to Cory and Vattenfall working together, and backed by more than £12 million of government funding, as many as 21,000 households are going to feel the direct benefits as we build back greener from the pandemic.
Mike Reynolds, Managing Director of Vattenfall Heat UK, said:
Vattenfall are leading the transition to fossil free heat. By incorporating the strategic use of all heat sources, including EfW in developing local plans for heat networks, we are accelerating the UK's energy decarbonisation.

"We were delighted to welcome Lord Callanan to the project and are really proud of the successful relationships we have built with Cory, Peabody, the Government and Local Authority in order to make this ambition a reality. We look forward to collaborating on future projects.
Richard Ellis, Director of Sustainability at Peabody, said:
We have a keen focus on finding sustainable solutions for Peabody residents across London and the South-East. We're thinking not just in terms of the decarbonisation challenge, but also welcome the opportunity to discuss how a joined-up approach between government and business can drive innovation and the green economy and support people in making better environmental and economic choices.

It is important to us that people on lower incomes do not bear the costs of transitioning to a low carbon economy, so we're proactively looking at opportunities to make sure that people living in our neighbourhoods have access to affordable, reliable, low carbon energy into the future."
Ken Hunnisett, Project Director at Triple Point Heat Networks Investment Management, said:
The scale and ambition shown of this project are immense but it's the tangible sense of urgency that is so impressive. It is not much more than a year since Cory and Vattenfall partnered with one another yet there's already been such tremendous progress. This is the decade in which we need to do most of the heavy lifting on the road to net zero and Lord Callanan's visit today is proof positive that the team here are doing it brilliantly well. It's been a pleasure to support them with funding from the Heat Networks Investment Project.