Growing fast
There has never been a more exciting time to work in recycling and waste management.
These sectors are among the fastest growing in the UK, backed by significant investment and technical innovation. We employ around 400 people to operate, support and manage our services and the facilities that transform waste to power a greener future.
As well as recruiting experienced professionals, we offer apprenticeships and management training schemes to nurture skills and invest in the future of our colleagues. Ultimately, we are seeking to equip employees to lead our business one day.
400+
employees ensuring no waste is wasted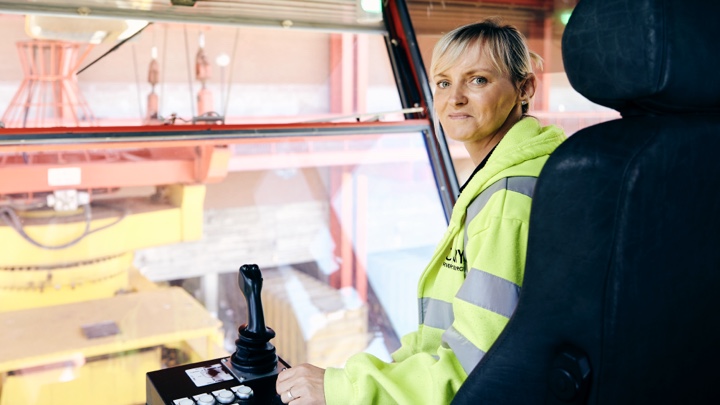 Doing the right thing
We are committed to treating our people well, paying them fairly, keeping them safe and providing them with opportunities to develop.
We care about staff wellbeing and work–life balance and we see our people as our best ambassadors and business advocates.
In addition, we are committed to continuing to tackle modern slavery throughout our supply chain and supporting our industry in addressing unethical practices.
We are always looking for new talent who would like to join us.
Natalija Latvinskaja
Deputy Site Manager
My first role at Cory was through an agency at the Company's materials recycling facility (MRF) in Wandsworth. I then moved to permanent employment as a Supervisor, overseeing the sorting of hundreds of tonnes of recyclable and non-recyclable materials a day. During this time, Cory supported me as I completed my Waste Level 3 Apprenticeship. After leaving the Company for two years to work for other organisations in the waste management sector, I re-joined Cory in 2020 as Deputy Site Manager of the MRF. The work of the MRF really must be seen to be believed – huge in scale and impressive in its efficiency as it acts as an essential, but largely unseen, part of London's waste infrastructure. The sense of responsibility I have in my role is something I still feel daily.
Steve Taynton
Operations Manager
I began my career as an Apprentice Mechanical Technician at another organisation, before joining Cory in 2010. I started as a Technician and have since moved through various roles in the Company to become Operations Manager at our energy from waste facility in Belvedere. Alongside my current role, and with the Company's support, I am also studying for an Executive MBA through Warwick Business School. Energy from waste is fascinating; as with any sector, it has its challenges – which I meet daily as an engineer – and opportunities, especially as the country seeks to become a more sustainable, net zero economy.
Joseph Dye
Bargeyard Manager
I joined Cory in 2015 as an Apprentice in Fabricating and Welding after finishing my A-levels. I am now manager of the Company's Barge Yard in Charlton. I enjoy my job – not only is it challenging and rewarding to fix problems as part of a great (and fun) team, but it feels like I'm contributing to something bigger in helping to manage London's waste and energy supply. It's also good to be part of a company with a proud history of operating on the River Thames for 125 years.
Maisie Burgess
HR Manager
After studying Philosophy at the University of Birmingham, I joined Cory in 2015 as the Receptionist at Head Office. I had a good feeling about the Company from the outset, both in terms of people and purpose, and after six months I moved to a new role as HR Administrator. Since then, I have progressed to HR Manager while being supported by the Company to complete professional qualifications through the Chartered Institute of Personnel and Development (CIPD). The scope and variety of Cory's operations is something that you don't find at every organisation and I enjoy working across our sites with a range of people from different walks of life.