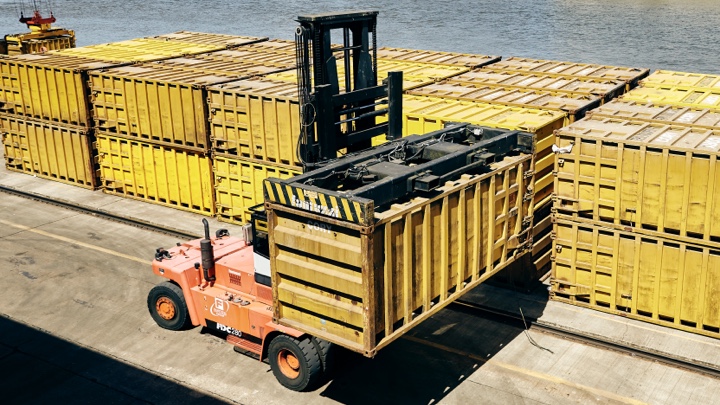 Friday, 17th July, 2020
Cory signs multi-million contract with A&P for delivery of 21 barges
Cory Riverside Energy (Cory) has agreed a multi-million-pound contract with Newcastle based A&P Tyne, part of A&P Group, for the delivery of 21 barges over a seven-year period.
The news reaffirms Cory's commitment to its river operations, which have been central to the business since it was formed over 100 years ago. The barges will replace nearly half of the existing 50-strong barge fleet used to transport London's residual waste up and down the River Thames. The new barges will replace the existing four types of barges with just two types (20 and 30 box), adding a greater level of flexibility into operations as well.
The use of barges is an important part of Cory's commitment to sustainability. Each barge will transport between 270 and 400 tonnes of waste depending on its size. This means that over the course of a year the entire barge fleet will transport around a million tonnes of waste, removing 100,000 truck journeys from London's roads.
The contract also represents a significant investment in the UK's manufacturing sector, with the barges to be built at A&P Tyne's 68 - acre facility on the south side of the River Tyne, before they are delivered to Cory. Construction has already begun on the first three barges which are expected to be delivered in December, with the remaining barges delivered across the seven-year contract.
Commenting on the news, Fran Comerford-Cole, Director of Logistics for Cory, said:
Our river operations are a core part of our business and I am delighted to be working with A&P on this contract. Their UK-based operations mean that this is good news not just for London, but for the UK as a whole as the economy begins to open back up.
Also commenting on the news, Keith Henry, Managing Director at A&P North East, said:
A&P Tyne secured this contract as a result of our proven track record delivering complex fabrication projects and our extensive facilities.

Each of the 21 barges will be built in our 23,000m² fabrication halls - the size and scale of which enable us to undertake simultaneous fabrication works for several barges at once. Our teams of engineers and fabricators will use our panel line to construct and weld each of the main parts of the barges, before they are transferred to the main fabrication hall for assembly. Each of the barges will then be lifted into the River Tyne for delivery.

A&P is delighted to be collaborating with Cory on this project and helping them to deliver a new fleet of barges which will deliver significant environmental benefits.