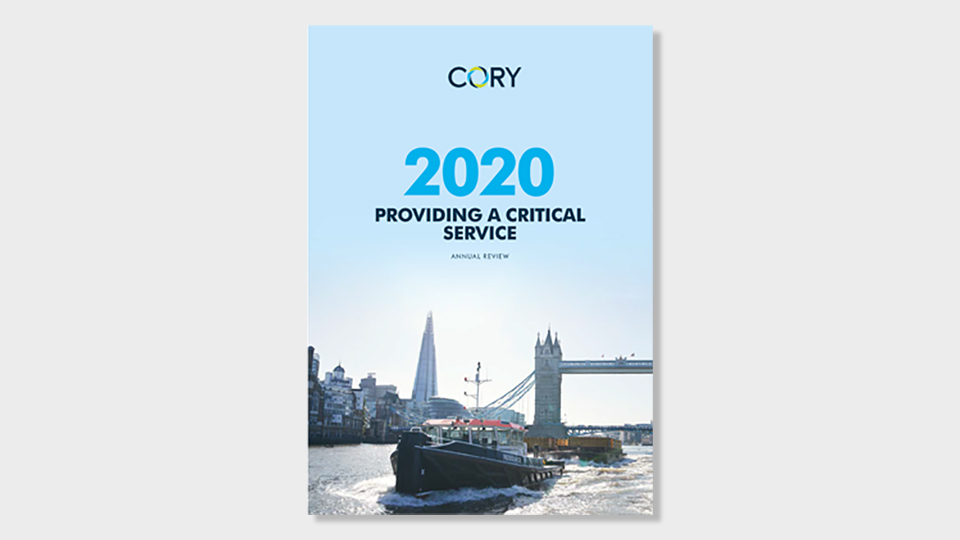 Tuesday, 18th May, 2021
Cory shows resilience in the face of crisis with strong 2020 financial results
Cory has published its 2020 Annual Review, which details its business strategy, operational performance, sustainability priorities, governance, and consolidated financial results. The company has also announced that it has rebranded to 'Cory' from its previous trading name, 'Cory Riverside Energy'.
In its 2020 operational performance, Cory diverted 731,000 tonnes of residual waste from landfill at its energy from waste (EfW) facility in Belvedere. This saved around 150,000 tonnes of CO2e from being released into the atmosphere, while producing 501 GWh of electricity, enough to power the equivalent of 155,000 homes. 170,000 tonnes of ash were turned into aggregate for construction.
Cory also saw strong performance across its recycling operations, sorting around 71,000 tonnes of recyclable waste at its Materials recycling Facility in Wandsworth, with further recyclables processed through two Household Waste and Recycling Centres.
Despite the pandemic, financial performance was strong for the year. The company generated £129.4 million in underlying revenue and £62.5 million in EBITDA.
To coincide with the publication of the 2020 Annual Review, the Cory rebrand refocuses the company's operations from energy generation, a by-product of the waste management process, while retaining the Cory name that has served the business for 125 years.
Commenting on the Annual Review, Dougie Sutherland, CEO of Cory said,
Our response to the challenges of Covid-19 has been remarkable. Cory, together with our partners, stood up, pulled together and showed that adversity makes us stronger. We proved that Cory is an extremely resilient business, processing around 731,000 tonnes of residual waste – only 1.5 per cent lower than our best-ever year – and sending more than 71,000 tonnes for recycling. I am proud that the Cory team has continued to deliver essential services through the pandemic and mitigate against any impact to our operations.

Our 2020 performance is extremely encouraging, and I am excited about Cory's future and our plans to invest £800 million into new projects in London and the South East. This investment will include a new EfW plant, which will be one of the lowest emitting in the UK, and the Riverside Heat Network which, in partnership with Vattenfall and London Borough of Bexley, will deliver low carbon heating to around 21,000 homes.
On Cory's rebrand, Sutherland said,
Given our critical waste service provision during the pandemic, it is fitting that we shift the focus from our energy generation capabilities. While our contribution to baseload electricity – and, in future, low carbon heating – is hugely significant, we are primarily a waste services company. We are proud to place the 'Cory' name at the front and centre of our brand, emphasising our founder's legacy when he incorporated the company as W.M. Cory & Son in 1896.