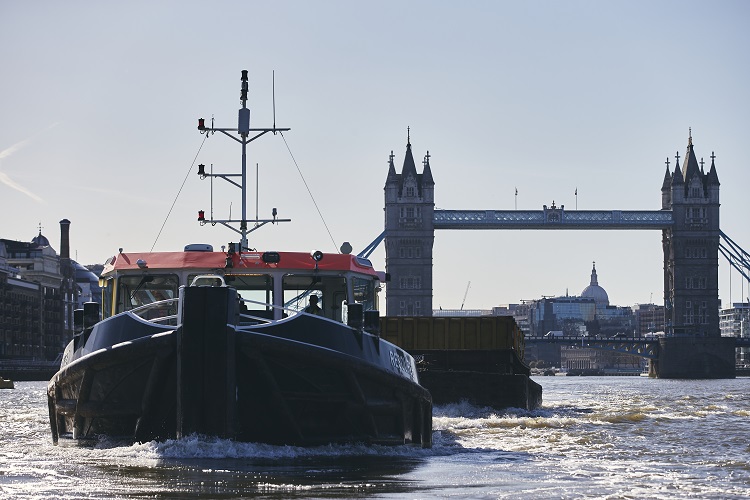 Monday, 10th August, 2020
Cory Riverside Energy completes rebuild and upgrade of WWII ship slipways
10.08.20 Cory Riverside Energy (Cory) has announced the completion of works to rebuild and upgrade two WWII-era slipways at Denton Wharf in Gravesend on the banks of the River Thames. The significant investment in the slipways is the first stage of the redevelopment of the site, since Cory acquired it in 2018. Each of the two slipways is capable of receiving ships up to a weight of 400 tonnes, a length of 60 metres and up to a width of 18 metres depending on the type of vessel.
The upgraded slipways can be booked by marine operators for ship repairs, surveys and refurbishments through Cory. They will also be used for upgrades and maintenance of Cory's fleet of tugs and barges, which are used to transport around 1 million tonnes of residual waste and aggregate up and down the River Thames each year.
The project was completed in partnership with Teignmouth Maritime Services (TMS) Ltd., which replaced the existing, deteriorating steel on the slipways with new British steel, as well as repairing the existing pile caps. North Sea Winches also designed, manufactured, and installed new winches to replace the ones previously in place. This included three new winches, a 20- tonne main slipway winch and a pair of five tonne downhaul winches with accompanying pulley and guide ropes.
The upgrades signal Cory's continued commitment to investing in river-based infrastructure given its position as a long-term operator on the River Thames, going back over one hundred years. Cory has also recently announced a multi-million-pound contract with Newcastlebased A&P Tyne, part of the A&P Group, for the delivery of twenty-one new barges over a seven-year period.
Commenting on the upgrades, Fran Comerford-Cole, Director of Logistics for Cory, said:
The businesses which operate on the River Thames are part of the backbone of London's economy, and a continuation of the capital's history as a river-based city. Cory has been operating on the Thames for over 100 years, and this latest project is part of our ongoing investment in the river and its infrastructure. As we begin to see the green shoots of recovery following the coronavirus pandemic, we hope that this investment will help to provide the stimulus that river-based businesses need and bring benefits to not only London but also the wider region. We look forward to welcoming a wide range of vessels and businesses to our slipways in the years to come.
Peter Stenner, Managing Director of Teignmouth Maritime Services Ltd, said:
TMS were pleased to work on this slipway replacement for Cory. The effort and considerations that were made for all parties involved throughout the project, especially through the tricky Covid-19 lockdown period, were excellent and as a result we were delighted to be able to complete the job ten days early.
Rob Gretton, Managing Director at North Sea Winches, said:
North Sea Winches are pleased to have worked alongside Cory Riverside to supply and install their new slipway winch system. "With the in house capability to design, manufacture, install and commission full system's, NSW have delivered and installed the project within schedule even through the Covid-19 pandemic. It has been a pleasure to work with Cory and their team both on site and within the group, we wish them well with all the expansion plans and hope we can work together again soon.
Businesses wishing to use the slipways should contact Cory by phone on 01474 567 881.